Thank you for making Sports Jam 2021 a huge success! Another great turnout with 102 kids having a go at 7 different sports.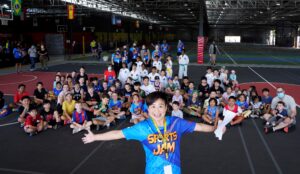 Click

HERE

for more the exciting photos!
Sports Jam aims to give kids the opportunity to try out multiple sports in one day at the same venue. This initiative was launched to honour the memories of Jam and Rie who tragically passed away in 2017. If you have five minutes to spare, we invite you to watch this video tribute to two beautiful children.
As a nine-year-old boy, Jam was very passionate about sports and enjoyed trying out activities whenever he can. Jam's mum remembers having to hop from one venue to another for this to happen. As such, she decided to honour her kids' memories by hosting Sports Jam to make it a bit easier for families get their kids into sports. We hope that Sports Jam will be adopted in the near future by schools and communities, a concept similar to a sports expo, to be held every four years.
Our first Sports Jam was held on 13 October 2018, which would have been Jam's 11th birthday. We aim to host Sports Jam every Summer Olympics year, subject to government restrictions and protocols. Jam's mum (and Rie's too!) is grateful to all volunteers, partners and sponsors for being with her in this journey. Click here to find out how you can support Sports Jam.

"If you knew Jam, you would know he was always looking out for others and had such a fun-loving nature. You would have seen Jam waving people to be included in his games and you would find him playing soccer on the oval with kids of any age group. A couple of days ago, a year 1 student came up to Mrs O'Brien and said: 'I knew Jam, he taught me how to play handball when I didn't know how and now I can join in.'"
– Extract of letter from Jam's year 4 teacher at Northside Christian College,2017
Train
Sports Jam helps kids access the clubs and sporting codes that can provide training for a variety of different sports!
Promote
Sports Jam
promotes the benefits that sport and the outdoors have on families and children!
Teach
Sports Jam teaches our children a variety of team skills, values, and beliefs that will benefit their life!